Top 3 Tips for Indians to find a job in Australia in 2022
Many Indians who immigrate to Australia or plan to settle in Australia find it tough to find a job in the nation. It is normally not due to deficiency of qualifications but owing to unfamiliarity with the occupations in-demand for immigrants.
Australia releases every year a list known as MSOL. It consists of all the occupations in-demand for that particular year. With accurate qualifications, skills, and knowledge you can find a job and settle in Australia easily. We have covered here all the important aspects that Indians need to know to find a job in Australia in 2022.
Different Occupations and Average Salary Packages in Australia
Occupation
Annual Salary  in AUD
Job Profile
Accountant
97,542
Advertising Agency - Senior Management Accountant
79,439
Management Accountant
58,441
Experienced Accountant - Undergraduate / Graduate
54,891
Business Services -Intermediate Accountant
79,417
Commercial Accountant
103,000
Public Practice - Senior Accountant
57,217
Tax Accountant
57,000 – 73,000
Tax Accountant -Intermediate
79,621
Tax & Business Services - Senior Accountant / Accountant
Software Engineer
73,541
JVM, Java8, Kotlin /Backend Software Engineer
78,484
Software Engineer - Junior
102,934
Full-Stack Software Engineer (NET/Java) -Senior
61,894
Laravel Developer - Mid-level
77,949
Software Engineer - C++ | QT
Agricultural Engineer and Scientist
75,000
Embedded Software Engineer
88,000
C# | C++ | DDS - Software Engineer - Senior
120,000
Environmental Scientist
74,000
Grains Trainee Research Officer
65,000
Agriculture Graduate – Grain
81,170
Quality Technologist -Senior
Civil Engineer
73,687
Design & Drainage -Professional Engineer
113,922
Civil Engineer - Senior
70,000
Graduate Civil Engineer
60,000
Civil Works -Site Engineer
Electrical Engineer
160,000
Supervisory Role Electrical Engineer
125,000
Engineer - Electrical Systems
120,000
Industrial – Heavy Industry: Electrical engineer
100,000
Building Services - Electrical Engineer
70,000
Electrical Engineer – Graduate
125,000
Power Station (Maintenance Strategy) -Electrical Engineer
75,000
Electrical Engineer -Graduate
75,000
Graduate Electrical Engineer
100,000 – 135,000
Building Services - Senior Electrical Engineer
Electronics Engineer
140,000
Medical Devices - Senior Electronics Engineer
65,000
Electronics Engineer - Junior
85,000
Automotive Products -Electronics Engineer
120,000
Electronics Design Engineer
78,000
Aerospace Engineer Officer/ Electronics Engineer
70,000
Electronic Analytical Instrumentation - Field Service Engineer
101,000 – 113,000
Senior Electronic Engineering Specialist
100,000 – 140,000
Medical Devices - Senior Electronics Engineer
55,000 – 65,000
Electronics Engineer - Junior
85,000
Automotive Products -Electronics Engineer
Graphic Designer
50,000 – 55,000
Graphic Designer - Junior
60,000 pro-rata
Digital Graphic Designer -Part-time
60,000
Digital and Graphic Designer
85,000 – 94,000
Graphic Designer
37,000 – 40,000
Digital Print Industry - Junior Graphic Designer
65,000
Web-Development Company - Mid-Weight Graphic Designer
65,000
B2C and E-Commerce -Graphic Designer
65,000
Artwork, Brand Design, Logo's & Marketing Campaigns - Graphic Designer
65,000
Pre-Press Trades Worker / Graphic Designer
70,000
Graphic Designer & Web Publisher
General Physician
300,000+
Doctor - General Practitioner


270,000
General Practitioner


300,000+
FRACGP-VR GP General Practitioner


300,000
Non-VR or VR General Practitioner


300,000
General Practitioner / Doctor


200,000
General Practitioner AMDS


350,000
General Registration / GP - AHPRAs Vocational Registration
Registered Nurse
77,000
Night Duty Registered Nurse
82,000
Community Registered Nurse
77,000
Aged Care Registered Nurse
79,000
Endoscopy Suite - Grade 2 Registered Nurse
86,000
Registered Nurse (Offender Health)
72,000
Maternity Leave Registered Nurse
Now, you have a clear idea regarding the occupations in-demand in Australia and their average salaries. You can now start with the right measures for finding a job in Australia. 
Here we present the top 3 tips for Indians to find a job in 2022 and settle in Australia: 
1. Immigrate to Australia on a Skilled Visa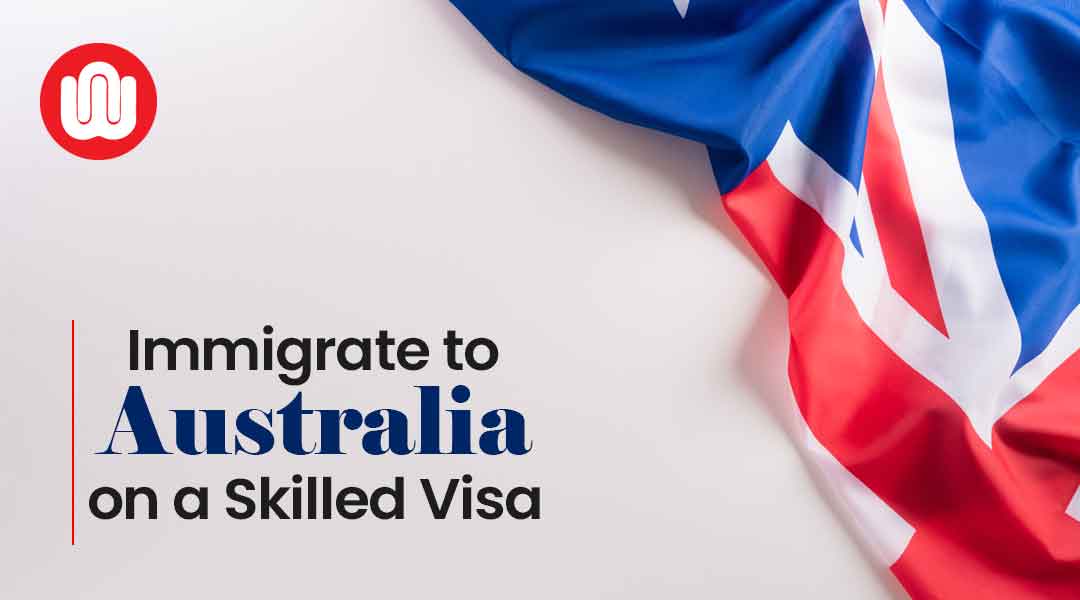 The following are the pathways for skilled migration to Australia: 
Australia Subclass 189 Visa
The Skilled Independent Visa or the Australia Subclass 189 Visa is a Permanent Residency Visa that permits you to settle in Australia without State sponsorship or a job offer. Good proficiency in the English language and a positive report for skill assessment are the chief requirements for this Visa. It is a renowned option for overseas nationals including Indians as this Australia Visa has minimal eligibility criteria. 
Australia Subclass 190 Visa
The Skilled Nominated Visa or Australia Subclass 190 Visa is a Permanent Residency Visa that permits you to indefinitely settle in Australia and work. But this Visa needs you to have a nomination from a State to qualify as indicated by the name. 
Australia Subclass 482 Visa
Australia Subclass 482 Visa allows employers to cater to the scarcity of workers by selecting skilled workers across the world. They are chosen to fill the suitable vacancies in the labor market of Australia. This Visa is also known as the Temporary Skill Shortage Visa. It authorizes your stay in Australia for up to 4 years. 
2. Apply for Assessment of Skills
Appropriate authorities for assessing skills provide the reports for assessment of your skills. These are agencies that confirm if your skills are on par with the standards defined for working in a very suitable occupation in Australia. They assist you in demonstrating your qualifications overseas. 
Some of the Authorities that assess skills for the Australian job market include:
TRA - Trades Recognition Australia
Engineers Australia
IML - Institute of Managers and Leaders National
VETASSESS - Education and Vocational Training Assessment Services 
The lists of all eligible skilled occupations are outlined within the following 4 lists of occupation in-demand in Australia: 
ANZSCO - Australia and New Zealand Classification of Regular Occupations
ROL - Regional Occupation List
STSOL - Short-term Skilled Occupation List 
RSMS - Regional Sponsored Migration Scheme
The majority of the occupations in each list have their individual authority for the assessment of skills. The Department of Home Affairs accepts only a report for skills assessment issued by the appropriate assessing authority. It is the responsibility of the applicants to contact the appropriate authority for their occupation and acquire an assessment for skills if necessary. Every authority for assessment has its charges, timelines, and assessment procedures. 
Obtaining a relevant assessment for skills is mandatory for a few Australia Subclass Visas. It may also be requested for other streams. You have to be acquainted with all the available details about the Australia Visa that you wish to apply for. It will assist you in determining if you require a skills assessment and the timeline for obtaining it. 
3. Connect on International Job Portals
LinkedIn
LinkedIn chiefly provides Senior or Executive roles and White-collar occupations aimed at job seekers universally – native or immigrants. 1 out of every 4 Australians is enrolled with LinkedIn making it one of the most renowned job search portals in the nation. 
A database of 6 million job seekers with profiles for all sectors is present in the database of LinkedIn Australia. The differentiating aspect of LinkedIn from other job portals is its option to chat and connect with colleagues or prospective employers. 
Seek
Since being launched in 1997, Seek is the top job portal in Australia. More than 13 million job seekers are present in the database of Seek. Three out of four Australians are enrolled on Seek. Thousands of job opportunities are available to job seekers on Seek on a daily basis. 
Seek also provides career advice and company reviews apart from an increased storage facility for resumes. You can also track your job applications through the applicant tracking system of Seek. 
APS Jobs
APS Jobs is popular as the gateway to public service in Australia. It is a platform for agencies of the Government to display vacant job openings and general information for job applicants. Some employment decisions like Graduate Programs and promotions are also published on it. 
The APS Jobs portal permits users to create accounts. They can then receive job alerts over email when job openings matching their search are advertised. It also has a comprehensive range of prospects offering temporary, part-time, and full-time roles across various locations in Australia. There are Management, Entry-level, and Technical roles along with Project Administration, Policy, and Support roles. 
Grad Connection
Grad Connection is the top graduate recruitment platform in Australia. It is a free portal that assists you in searching for internships and jobs for graduates across top employers in Australia for launching your career. 
You can research the firms on the portal, connect with fellow graduates in the forums, and be identified by employers who view your profile on it. 
Updates for Indian Job Seekers seeking to settle in Australia 
The occupations in-demand list for Australia Subclasses 491 Visa and 190 has been updated by NSW - New South Wales region in Australia. 
For the Subclass 190 Visa, NSW is asking immigrants having an EOI to submit an application for nomination only if they are currently residing in the NSW region. 
The number of regions has increased to 13 from 8 for the Subclass 491 Visa enhancing the chances of applicants to receive the Visa. They have the option to submit an application through the following 3 streams for qualifying for a nomination from the region: 
Recently completed studies in regional NSW 
Living and working in regional NSW  
Living and working outside of regional NSW