7 Reasons That Will Sabotage Your Chances Of Getting A Canada PR Visa
The application procedure for a Canada PR Visa can be complicated and time-consuming, especially if you are unfamiliar with the immigration system. No one likes to spend time and money planning a trip or immigration just to have their plans thwarted by a visa rejection.

Whether you're applying to study, immigrate, work, or travel in Canada, your Canada PR Visa application could be declined for a variety of reasons. In this article, we'll look at the top seven reasons applicants face Canada Visa rejections - as well as how to avoid them.
Reasons Why Your Canada PR Visa Application Might Be Rejected
One out of every four applicants faces Canada Visa rejection, which may easily be prevented. The following are the most prevalent mistakes that could result in your visa being rejected.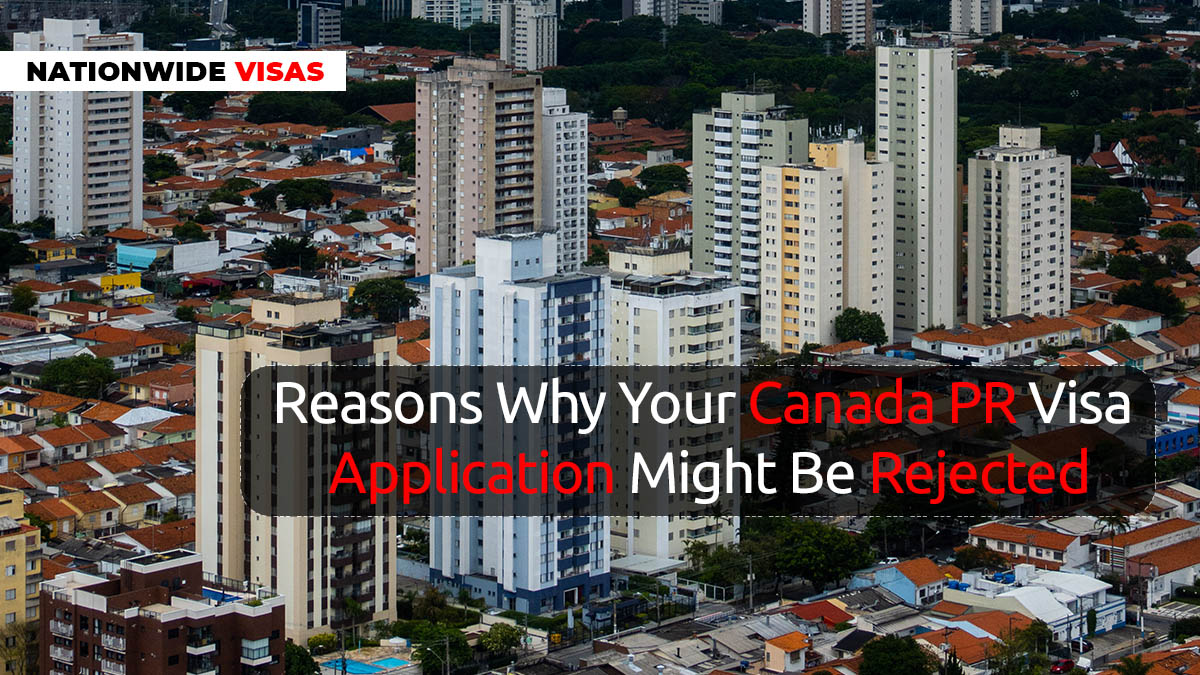 1. Not Hiring ICCRC Authorized Immigration Representatives
Unfortunately, this is one of the most common causes for the Canada Visa rejection or delay of many Canada PR Visa applications. Many con artists prey on unsuspecting job seekers by offering free evaluations and exclusive offers, as well as assuring job offers and visas. Identity theft, fraud, theft of bank account or credit card information, and computer infections are all common outcomes of these frauds. Scams are perpetrated over the phone, via email, and/or on the internet.
Get a Free Express Entry Assessment
2. Not Providing The Required Supporting Documents
When applying for a Canada PR Visa, you will be required to submit supporting documents that prove your claims are true. If you have a degree, you must give a copy of your diploma as well as your transcripts, and if you have two years of work experience, you must offer a reference letter detailing your hours worked, duties, and responsibilities. If you don't have enough documentation to back up your assertions, your visa application may be returned or simply rejected.
3. Not Convincing The Government That You Are Not A Security Risk
You will also need to provide a criminal report demonstrating that you have not been involved in any of the following:
Espionage
Subversion (such as political riots or work strikes)
Violence or terror
Be a member of an organization that violates human or international rights (such as war crimes; crimes against humanity, etc.) or is involved in organized crime (such as money laundering, human trafficking, etc.) and/or
Committed a crime (this includes driving under the influence of drugs or alcohol).
4. Not Providing Enough Information Showing That You Are in Good Health

When you apply for a Canada PR Visa, you must have an immigration medical exam performed by a government-approved medical institution or specialist. Inadmissibility due to medical reasons includes the following:
A threat to the public's health (which includes having an infectious active disease, such as tuberculosis or syphilis, or have been in contact with someone who has an infectious disease).
A threat to public safety (including the loss of physical or mental capacities, as well as unpredictable or violent behaviour); and/or
Excessive demand on health or social services (which depends on whether the cost of your medical treatments would put excessive strain on the public Canadian health care system and negatively affect wait times).
5. Not Providing Proof Of Funds

Whether you're studying, immigrating, working, or travelling to Canada, you'll need to show that you'll be able to support yourself and your dependents during your stay. This is true regardless of whether your dependents will accompany you to Canada. Failing to provide legitimate proof of funds is also a case when it comes to Canada visa rejection.
6. Not Providing Evidence to Support Your Reasons for Visiting Canada
Officials from the government must be satisfied that your intentions for visiting Canada are both legal and positive. You'll need to show that you're travelling for a specific reason, such as tourism or a conference. You'll also have to show that you'll come home when you say you'll come home. This may be influenced by your previous travel history (for example, overstaying in another country) as well as your failure to provide a valid cause for returning home, such as permanent employment or dependents.
7. You Have Misrepresented Yourself
It may be tempting to provide forged documents or false information if you have failed to meet any of the above criteria of Canada Visa rejection. This is not recommended because your documents will be subjected to a thorough review. Your application will not only be more likely to be accepted because the immigration consultant will have verified your paperwork for you but it will also be handled much more effectively if you work alongside an RCIC.