What is Canada Express Entry Program?
If you aim to reside and shape a successful career in Canada then you must first get yourself familiar with the Canada Express Entry Program. All economic class immigrants who want to immigrate to Canada can apply for PR Visa through the Express Entry System.
The Canada Express Entry Program is an online Canada immigration system launched in January 2015 by the Government of Canada for managing the Canada PR Visa applications of all economic category immigrants. Skilled individuals who want to move to Canada for work prospects and a better lifestyle are termed, economic immigrants. A highly comprehensive program, Express Entry plays a vital role in managing the immigrant inflow to Canada judging through certain diverse parameters.
Get Free Assessment
What are the features of the Express Entry Program?
The Express Entry Program of Canada is a unique and fast-track immigration program based on points that facilitates the skilled workers to obtain Permanent Residency in Canada. The Government of Canada has adopted a progressive and unique approach for selecting skilled professionals and offering them entry to the nation as Permanent Residents. The system processes the applications of qualified immigrant applicants to migrate to Canada based on their Express Entry Points allocated for diverse factors such as experience, language proficiency, skills, and others.
Your chances of receiving the ITA - Invitation to Apply for Canada PR Visa increases as you score higher points. Normally, PR Visa applications through this program are processed within or lesser than 6 to 12 months.
The key features of the program are:
It is an online program that is open all around the year with no cap on applicants.
You are required to submit an EOI - Expression of Interest and furnish application through any category of job specified in 0, A, and B Skill Levels.
The evaluation of your profile will be based on your points score after which you will be admitted to the applicant pool.
Employers and Provinces in Canada will access this pool and identify talents meeting their requirements.
The candidates in the pool with the highest points are offered an ITA for PR Visa.
The number of ITAs offered is determined by the Yearly Immigration Level.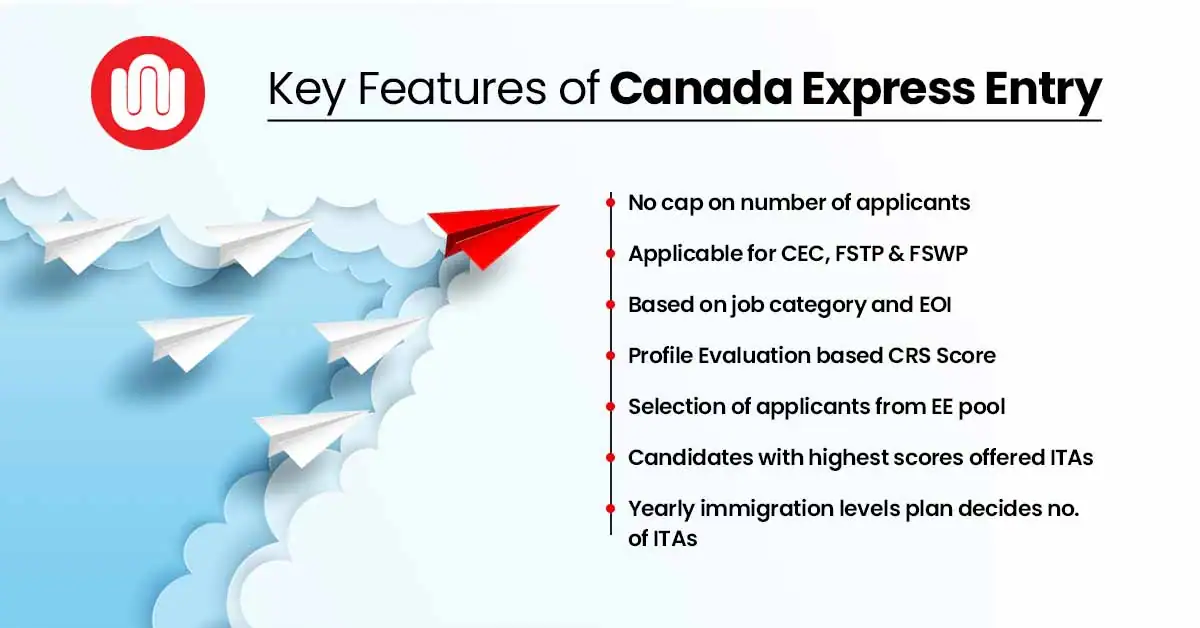 How does the Canada Express Entry work?
Below are the major steps involved in the application process of Canada PR Visa through the Express Entry Program:
Step 1: Complete your Profile
The process of obtaining the PR Visa commences with the filling of the digital Express Entry form by furnishing crucial documents about Education, Experience, and other personal documents.
Step 2: Express Entry Pool
After the application is accepted into the pool, the candidate is provided a Job Seeker Validation Code and Express Entry Profile Number through which they can develop their resume in the Canada Job Bank.
Step 3: Invitation to Apply
Upon obtaining the Express Entry Points in line with the Canada Immigration Draw, the candidates are selected by the Citizenship and Immigration Canada for being offered the Invite to Apply.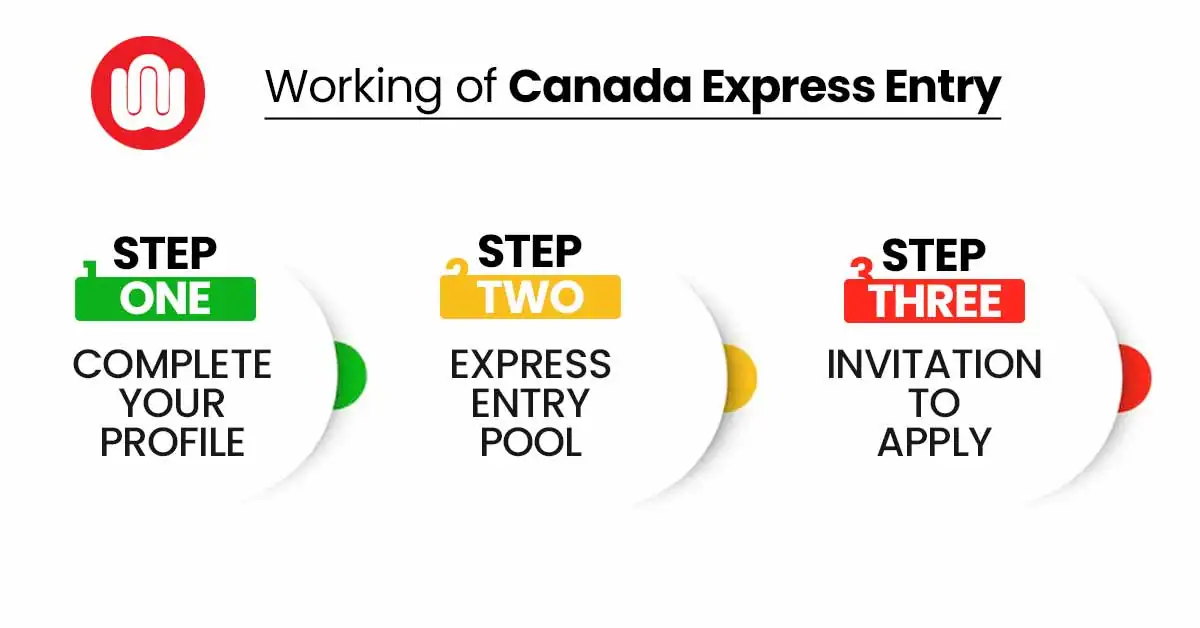 Apply for Express Entry
How to apply for a Canada PR Visa Online?
The last step is furnishing the mandatory documents of the application to receive the status of Permanent Resident in Canada. Shortlisted candidates are given 60 days for submitting the complete application and documents and failure to comply results in the cancellation of the ITA - Invite to Apply.
The Express Entry accepts applications for the following Visa categories:
Moreover, the Provinces and Territories in Canada also offer ITA to skilled immigrants in the Express Entry Pool through the Provincial Nominee Programs. Upon entering the pool, every applicant is allocated a score through the Comprehensive Ranking System (CRS) out of 1200. The allocation of scores is based on diverse factors including Education, Work Experience, Age, Adaptability, Language Proficiency, and Employment Offer.
Applicants with the highest scores are periodically offered an ITA upon which they get 60 days for submitting the complete application for Canada PR Visa. Besides, candidates can also seek jobs in Canada by creating a Job Bank Account after the creation of a profile in Express Entry. They can continue with the process to search for jobs through the Job Bank even after arriving in Canada.
Discover your Express Entry and Canadian immigration options by taking our free online assessment
What is Canada Skilled Occupation List?
The one factor apart from your CRS score that has a tremendous influence on your Canada PR Visa application is the Skilled Occupation List. IRCC identifies the Occupation in demand in Canada Labor Market and classifies these jobs under the NOC - National Occupational Classification. The jobs are divided into groups based on the duties of the job and the work done by the job holder.
For purpose of Canadian immigration, the chief categories of jobs are:
"0" Skill type: This category includes management jobs like:
Food and Beverage servers
"A" Skill Level: This category of jobs normally requires a University Degree:
"B" Skill Level: This category of jobs normally requires an Apprentice Training or College Diploma:
"C" Skill Level: This category of jobs normally requires Job specific training and High School education:
"D" Skill Level: This category of labor jobs normally requires OJT - On-the-job-training:
Canadian Immigration Express Entry Programs make use of the NOC to decide if a type of work experience or job fulfills their eligibility requirements. Jobs having NOC Skill Type B, A, or 0 are considered as skilled by the Express Entry Programs.
Read More:- Canada Express Entry Latest Draw 2023
How does the Canada Express Entry Points Calculator work?
The Canada Express Entry Points Calculator offers a broad idea regarding the points to be scored by a candidate for qualifying to immigrate to Canada. The points are awarded through a CRS calculator based on many factors like language skills, work experience, educational qualification, age, etc. IRCC regularly conducts fortnightly draws for selecting candidates with maximum CRS scores. The chosen candidates are offered an ITA by IRCC for further application and processing of their PR Visa.
To calculate your CRS score, click her

How to check your eligibility for Canada Express Entry?
You are required to answer several questions for assessing your eligibility through Express Entry to work in Canada as a skilled worker and settle permanently. There are 3 programs under this system as already stated and every program has distinct qualification requirements to be fulfilled. You will be asked queries based on the following:
Education or Skills level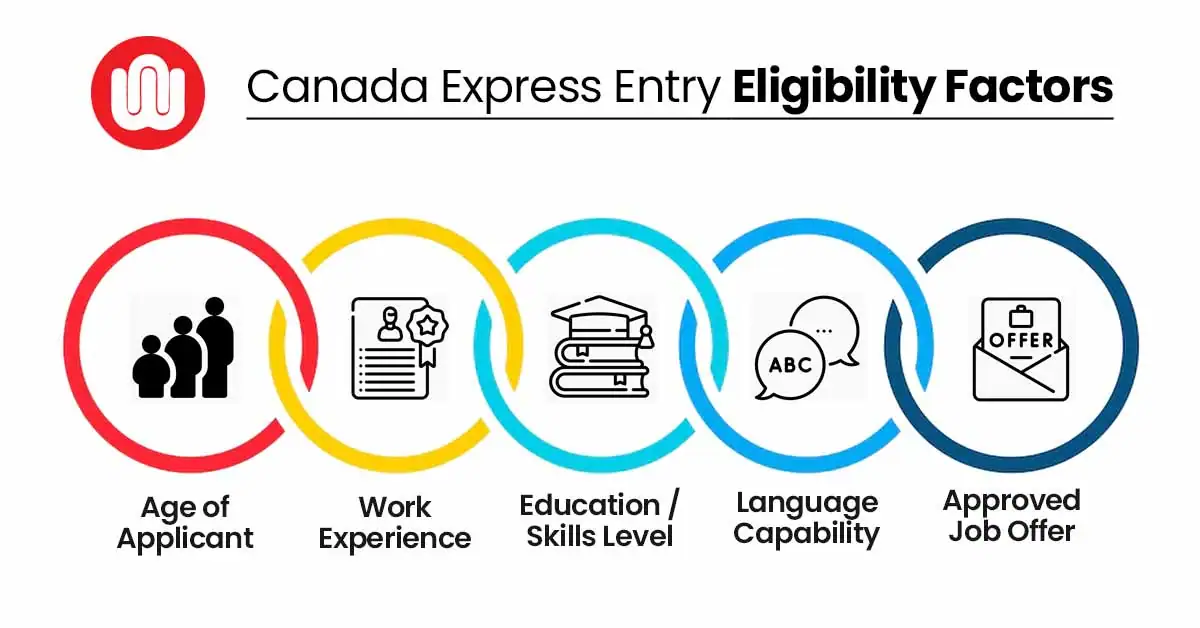 You will be informed regarding the streams appropriate for you based on your answers. You must ensure not to furnish any misleading or false information about your profile in this process.
Candidates who are successful in qualifying through the Express Entry criteria are provided comprehensive directives on the further steps to be followed. This ranges from completing a digital profile to furnishing essential information. Profiles of candidates fulfilling the requirements are admitted to a pool of applicants for processing PR Visa and are given an invitation for applying through ITAs.
Apply For Express Entry
How to get an ITA for a PR Visa?
The Government of Canada conducts one Express Entry draw once every two weeks normally. Each drawing has a minimum CRS cut-off score which denotes the lowest-ranked candidate's CRS score to have received an ITA for Canada PR Visa in that draw. The candidates who receive an Invitation to Apply have 60 days for completing and filing the official online application for PR Visa.
The selection of the candidates is based on their ranking under the CRS - Comprehensive Ranking System which is based on points. The Immigration Department of Canada has been regularly conducting the Express Entry Draws and offering maximum immigration opportunities to eligible applicants. It is now an established tradition for the IRCC to hold a minimum of 2 draws every month under the Federal Skilled Worker Program.
According to the reported Canada Immigration Levels, the Government of Canada aims to invite new 401,000 migrants from across the world in the year 2021. This year is thus going to witness an amazing increase in ITAs offered across all the economic immigration pathways of Canada. Express Entry draws will offer the maximum number of ITAs to overseas talents.
As regards the technical aspects of the Express Entry draw, it adopts a system based on points for selecting the best available candidates suitable for the labor market in Canada. You must secure a high score in CRS to get selected based on your various credentials like education, work experience, age, proficiency in the language, and others. To put it simply, the higher your CRS score, the quicker are your chances of receiving an ITA under Express Entry.
How can you enhance your CRS Points to obtain an ITA?
You need not feel anxious and dejected if you score fewer points under Canada Express Entry as there are several pathways to enhance your CRS points. A few of these are:
Improve your IELTS score
Demonstrating proficiency in the language is one of the major steps in your immigration process to Canada. Furnishing reports of IELTS scores or similar approved language tests are vital for all Canadian economic immigration streams. Thus, if your scores are less on the first attempt, you can once again take the test while obtaining professional assistance. It will surely offer a direct boost to your CRS points.
Take a French (TEF) Language Test
If you can work on a french language test that can drastically improve your CRS ranking by 72 points in the Express Entry pool.
Upgrade your education
If you have done your Bachelors's Degree and scored fewer points in the express entry pool then you can look forward to pursuing your post-graduation, diploma of 1 year, or a master's degree of 2 years.
A Master's degree in comparison to a bachelor's degree increases 40 extra points in the express entry pool, wherein Post Graduation Diploma of 1 year can help increase 33 extra points in comparison to a bachelor's degree.
A Ph.D. degree can increase 15 extra points on top of a Master's Degree.
Spousal Factors
Candidates in Express Entry who are not single must include their Spouse or Common-law partner while creating their profile. Single applicants are eligible for claiming a maximum of 1200 points under CRS. However, applicants including the spouse are eligible to obtain a maximum of 40 extra points for the skills of the spouse. It is thus advisable to make your spouse the primary applicant and claim extra points if your spouse's credentials are stronger than yours.
Education Level
A maximum of 10 points can be claimed by your spouse for their education. Nevertheless, you must get the assessment of their credentials from World Education Services for proving the value of their education in Canada. Education corresponding to a Master's Degree or higher in Canada will incur the maximum number of points to your spouse.
Job Offer
An LMIA Labour Market Impact Assessment approved arranged employment can increase your CRS scores by 50 to 200 Point In Express Entry Program.
These points depend on your NOC code skill level A, O, B, or your NOC Code Skill level "OO" to Obtain 50 or 200 points in the express entry program.
Skill Level A, O, B, increases 50 points, and skill level "OO" increases 200 points
So Getting a job offer from Canada can be a really important part to obtain a permanent residence in Canada you can search for jobs through The job bank portal accessible under the express entry program.
How Nationwide Visas Can Help You?
We at Nationwide Visas have assisted thousands of individuals to successfully immigrate to Canada with their families through the Federal Express Entry Program. Our qualified and experienced Immigration Experts are equipped with the proficiency to accurately assess your case and advise the most suitable course of action for best serving your needs.
Nationwide has accumulated a treasure of goodwill and exhaustive experience over the last 16+ years in this dynamic immigration industry and has constantly facilitated a wide range of aspiring immigrants to achieve their overseas goals.
We are among the top-most brands in the Immigration sector being a highly reliable immigration firm with an outstanding track record of several thousands of triumphant PR Visa applications. The following major factors make us the Best Immigration Consultant for a Canada PR Visa: