India continues to be a top source of Canada Immigration even in 2021
India continues to be a top source of Canada Immigration even in 2021  
The number of Indians successful in Canada immigration reached a new high in 2021 in spite of the closures of borders, pandemic wave, and public health curbs. It makes India the only nation to have sent more immigrants in 2021 than in 2019 amongst the 3 top sources of Canada PR Visa holders.  
By the conclusion of October 2021, Canada had already approved and accepted 96,660 applications for Canada PR Visa from India. This is an increase of 125% or 53,795 candidates than the whole of 2020. This is as per the statistics of Immigration, Refugees, and Citizenship Canada. 
Undoubtedly, 2020 was a rough year for immigration to Canada. The number of fresh Canada PR Visa holders declined by nearly 45.9% in 2020 to reach 184,585 in comparison with 2019 with 341,175 fresh Canada PR Visa holders. 
The number of fresh applications for Canada PR Visa from India till October 2021 was already 12.9% higher than the sum of all Indians who settled in Canada in 2019.  
Canada hiked immigration targets for 2021 and ahead 
The Government of Canada has been buoyant on immigration all along with the pandemic. 
In October 2020, the Government fearlessly increased its immigration intakes. It announced that the number of fresh permanent residents accepted for the next 3 years would be: 
2021: 401,000
2022: 431,000
2023: 447,000
2024: 451,000
The erstwhile Immigration Minister of Canada Marco Mendicino in the first year of the pandemic had said that immigration is crucial for the nation to tide over the pandemic. It is also vital for the immediate economic revival and economic expansion in the long term, he added. 

Canadians have witnessed the manner in which the new immigrants are playing a great role in our Care Homes and Hospitals and assisted us in serving the needs said, Mendicino. As we plan revival, new immigrants create jobs not only through their skills contribute to the businesses but by also launching new businesses. Our immigration targets will assist in catering to some of our most severe labor scarcities and population growth for keeping the nation competitive globally, elaborated Mendicino.
 The Top 10 major Sources of fresh Permanent Residents to Canada in 2021
| | |
| --- | --- |
| Number of fresh Permanent Residents till October | Nation |
| 96,660 | India |
| 24,995 | China |
| 13,310 | Philippines |
| 12,500 | Nigeria |
| 10,510 | France |
| 9,525 | United States |
| 9,270 | Brazil |
| 8,930 | Iran |
| 6,625 | Pakistan |
| 6,590 | South Korea |
 The top 4 major sources of fresh permanent residents to Canada remained unaltered: Nigeria, the Philippines, China, and India. However, the 5th position was occupied by France displacing Pakistan which moved down to the 9th position. South Korea had occupied the 9th position in 2020 went down to occupy the 10th position in 2021. 
Canada Immigration from India increased than estimations 
While the number of Canada PR Visa holders from India exceeded the projections, China and the Philippines failed to achieve this feat. The final immigration statistics for the entire 2021 are yet to be announced. However, projections point out that India will have increased its share of fresh Canada PR Visa holders by 15% more in 2021 than suggested by the trends in 2020. 
However, the scenario is entirely the opposite when it comes to China and the Philippines. 
As per the estimations, China's share in fresh Canada PR Visa holders will decrease by 15.6% lesser in 2021 than projected. For the Philippines, the decline is estimated to be 51.1% lesser than projected. Similarly, it is projected that Pakistan's share in fresh Canada PR Visa holders will decline by 37.4% lesser than estimated earlier.  
As per the trends in 2020, Nigeria was anticipated to contribute 14, 805 fresh Canada PR Visa holders in 2021. It is projected that it will achieve this level of immigration and even exceed slightly by 195 individuals. 
The majority of fresh Canada PR Visa holders arrived via Economic immigration streams 
The most popular pathways for overseas nationals to obtain Canada PR Visa in 2021 were streams under Economic immigration programs. 63% or 197, 865 fresh Canada PR Visa holders till October 2021 were received from these programs. 
How to Immigrate to Canada from India?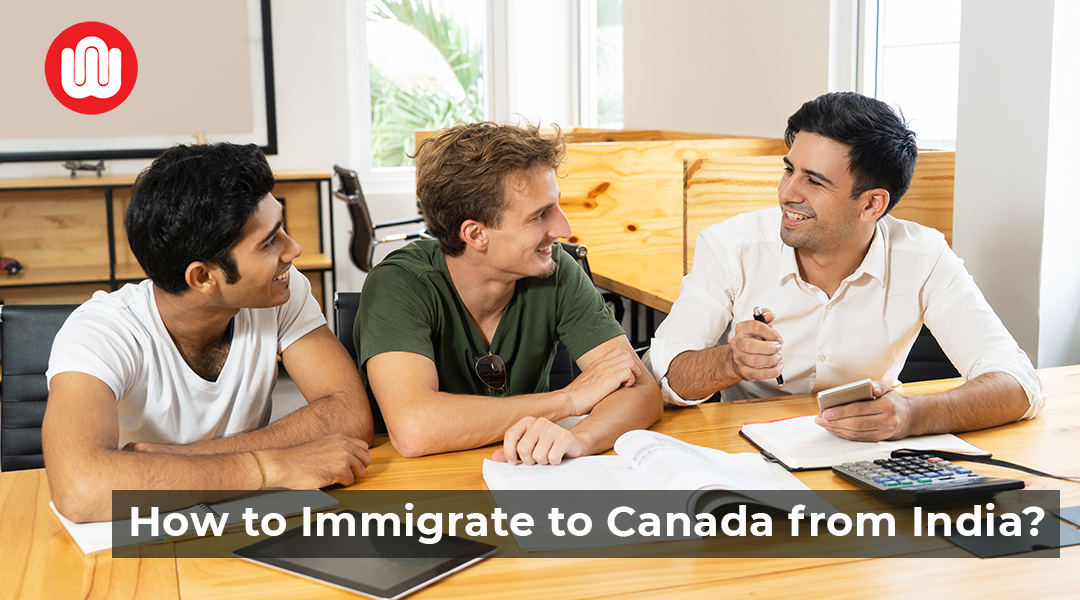 The majority of the fresh Canada PR Visa holders every year are from India and this trend has remained unaltered for the past few years. Tens of thousands of Indians immigrate to Canada annually which makes it the 8th largest global Indian Diaspora. You have several options to choose from if to wish to be one among them. 
Here are some of the pathways for immigration to Canada from India:
Express Entry Program 
The most popular pathway for immigration to Canada is Express Entry Program. It is a digital system that takes care of applications for 3 federal immigration programs: 
You can provide your details into the pool of candidates in the Express Entry if you are qualified for one of the above programs. You will then be offered a score according to the CRS - Comprehensive Ranking System. 
You are offered points for your education, age, language proficiency in French or English, and skilled work experience. Skilled work is determined by IRCC according to the NOC - National Occupational Classification System. Occupations classified as skill levels B, A, or 0 are regarded as skilled and thus qualify for points under CRS. 
The candidates who secure the highest scores are offered ITA – Invitation to Apply for Canada PR Visa via frequent draws. 
PNPs - Provincial Nominee Programs
Provincial Nominee Programs are managed by provinces and territories in Canada. The aim is to support the labor market challenges in the regions. Excluding Quebec and Nunavut, all the provinces and territories in Canada participate in the PNPs. There are two kinds of PNPs:
Enhanced PNPs – These are aligned federal with Express Entry
Base PNPs – These function independently 
Enhanced programs search for candidates in the Express Entry pool. You will be awarded 600 points towards your CRS score if you obtain a nomination from a province through the PNP. It will enhance your CRS score and accelerate you among the top-scoring candidates. This more or less ensures an ITA for Canada PR Visa in the following Express Entry Draw. 
Base PNPs are a good option for individuals who do not qualify for the Express Entry. You have to apply to the Province if you wish to migrate through the base PNP. If you are qualified, you will be offered the nomination. You can then file the application for Canada PR Visa with IRCC. 
Study and Work in Canada
You will require a Study Permit for study in Canada. It authorizes you to work for a maximum of 20 hours weekly during the academic year and full-time during academic vacations. 
Indian citizens can apply for Student Direct Stream provided they have fulfilled the criteria of the program such as payment of tuition fees for the first year. It expedites the processing of their Study Permit. 
Some study programs make you qualified for the PGWP - Post-Graduation Work Permit. It is a highly demanded Work Permit that authorizes you to be employed in any destination and any employer in Canada. The normal validity of this Permit is similar to the duration of the study program. So you can become eligible for a 1-year PGWP through a 1-year study program. 
Canada Work Permits
Work Permits in Canada are broadly classified under 2 categories: 
TFWP – Temporary Foreign Worker Program 
IMP - International Mobility Program 
The chief difference between IMP and TFWP is that the latter mandates the employer in Canada to obtain LMIA - Labor Market Impact Assessment. In a simple way, the process that demonstrates that the overseas worker's hiring will have a positive or neutral impact on the labor market in Canada is known as LMIA. 
The Global Talent Stream – GTS that functions under the TFWP is a Canada Work Permit program. It permits tech workers in specific occupations or those who are hired by companies participating in GTS to avail themselves of a fast-track Work Permit. The LMIA on the part of the employer is not necessary and thus the processing is much quicker. 
IMP does not require LMIA as the program aims to promote the broad cultural, social, and economic policy objectives of Canada. 
Intra-Company Transfer or ICT is an example of IMP. It is crucial for chief personnel in specific positions who have to be transferred to a location in Canada from their branch in India. 
Nationwide Visas offers you Visa and Immigration services through ICCRC accredited Immigration Consultants who possess the required expertise, competency, and skills. They will offer you an exhaustive assessment of your profile so as to help in choosing the most suitable immigration pathway for Canada PR Visa. Book your time slot with our Immigration Consultant today!