Steps to Check Your Canadian Immigration Consultancy's License
While consulting, you will find numerous consultants in the market. But, are they all real? And if not, how do you find out the real one, the licensed consultants?

Well, this blog is all about the ways to find the license of an immigration consultant, factors to look into while choosing one, and the name of the best immigration consultant in India at last.

Hiring a licensed consultant is always a good idea.
When seeking consultants, you'll find a lot of freelance consultants that are successful immigrants who want to share their knowledge with others. It could be genuine, but it isn't certified. Hence, you should only work with licensed consultants, whose licenses are based on training and quality assurance provided by immigration authorities.

Look for the ICCRC Accreditation/RCIC number on the certificate.
By assigning an RCIC Number, the Canadian Immigration Department checks and registers some worldwide PR Visa consultants. Genuine consultants are identified by their RCIC number.

Always check the RCIC number before starting with any Visa consultation.
How to check the license of the Canadian immigration consultant?

STEP 1: GO TO HTTPS://ICCRC-CRCIC.CA/FIND-A-PROFESSIONAL/ ON THE ICCRC WEBSITE.

STEP 2: ADD THE DETAIL, EITHER THE RCIC NUMBER, THE COMPANY NAME, OR THE LOCATION.

STEP 3: FINALLY CLICK ON THE SEARCH BUTTON 

If the ICCRC number of your consultant shows, is genuine, or else, you might have to be safer!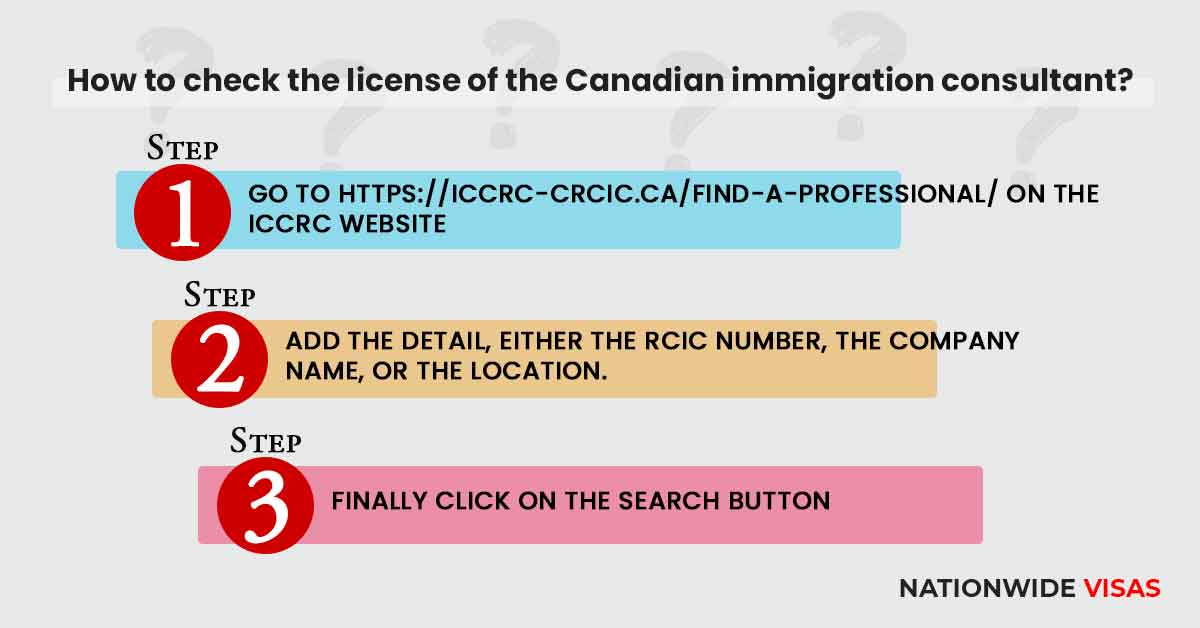 What are the other factors to consider while choosing the right Canadian immigration consultant?

Check their success rate-
Immigration consultancies do not issue visas; instead, they act as a professional conduit for expediting government procedures. As a result, a consultancy cannot guarantee a 100 percent success rate. The Canadian government has complete control over everything. So, if a company has a success rate of 95% or higher, it's trustworthy!

A credible immigration agency should have at least 1000 successful cases over the course of three to four years.

There must be complete transparency-
After all, changing borders is a life-changing choice, and your immigration firm should understand and respect that. The entire procedure should be as transparent as possible because your life is on the line.

In addition to answering all of your concerns, your consultation should include all references, background qualifications, registration information, the pros and cons of each step, and so on. Even if there are some difficulties along the way, they should preserve transparency.
There is no way for an immigration service to promise you a job or the Canadian PR Visa in Canada-
Simply report or block any immigration firm that promises you a job or the Canadian PR Visa in Canada! It's just not feasible. Consultancies can only help you construct a resume in accordance with Canadian standards and apply for employment on the NOC list in Canada, but they cannot guarantee you a job or Canadian PR Visa. Consultancies are nothing more than a professional intermediary between you and Canada's immigration authorities. They can only help you with the process, provide you with a complete explanation of the Canadian immigration programs, and fill out your application paperwork flawlessly, among other things.

Examine their reputation
Many people depend on  Google reviews or just dial reviews to express their satisfaction or dissatisfaction with the consultation. The best approach to gauge the consultancy's reputation is to look at such reviews. On their websites, they also include client testimonials.

Pay a visit to their place of business
The best strategy to cement the transaction is to meet with the consultancy face to face. Visit their closest office to learn more about their work culture and environment, as well as to keep track of your application.

What distinguishes Nationwide Visas as India's best Canadian immigration consultant?
Nationwide Immigration Services has been one of India's leading immigration consultancies since 2007. Our immigration services are designed to give our clients detailed information about the immigration process so that they may make the right decision for themselves.

Nationwide Immigration provides immigration advice to a large number of Indians who wish to live in some other countries. We provide our customers with accurate information and the best available application route during immigration consultations. Our main goal is to aid our clients in accomplishing their immigration-related goals.

Our skilled immigration advisers and lawyers provide superior immigration and citizenship services to prospective immigrants who wish to travel to foreign countries. We now have offices in Canada, Delhi, Gurugram, and Mumbai.

What are the advantages of consulting an immigration lawyer?
There have been countless cases where applications have been denied due to minor mistakes. Regardless of how much studying they have done, an expert is characterized by their hands-on experience, and our visa experts are among them. They've been trained and have expertise in filling out hundreds of visa applications correctly. As a result, making errors is out of the question!
Contact Nationwide Visas today to check your eligibility for the Canadian Immigration Programs and get a free counseling session today.