Canada approves new 11500 applications for PR Visa via TR to PR Pathway
The data from Immigration, Refugees, and Citizenship has revealed that 11,425 Provisional Residents in Canada had obtained Canada PR Visa by the end of October 2021. This is through the Temporary Resident to Permanent Resident program that accepted applications from May 6 to November 5, 2021.
The provinces Ontario and British Columbia are emerging as the maximum beneficiaries of the one-time Canada PR Visa route for overseas nationals already residing in Canada. Undoubtedly, several applicants are still looking forward to the processing of their applications.
The Provisional to Permanent Resident route had accepted 84, 1777 applications through its 6 streams before closing on 5th November 2021. These included 3 streams for both Francophones and Anglophones and three streams only for Francophones.
84, 177 Canada PR Visa applications received through the program
The Provisional to Permanent Resident Program exhausted its maximum allocation in the streams that accepted both Francophones and Anglophones:
Essential, Non-healthcare Workers in Canada: 30,000 applications
Recent Overseas Graduates from Institution in Canada: 40,000 applications
Meanwhile, the program received 7, 155 applications under the stream Workers in Canada: Healthcare that was open for both Anglophones and Francophones. The maximum allocation of applications under this stream was 20,000. The streams exclusive for Francophones did not have an upper limit on the number of applications but received far lesser applications.
The Workers in Canada: Healthcare French-speaking - 271 applications
The Workers in Canada: Essential, Non-Healthcare French-speaking - 2,054 applications
The Recent Overseas Graduates from Institution in Canada French-speaking - 4,697 applications
Get a Free Express Entry Assessment
Ontario receives 50% plus of the fresh Canada PR Visa holders through the route
The data revealed by IRCC does not offer a stream-wise break-up of the destination of new Canada PR Visa holders through the program. However, the data demonstrates that Ontario bagged the majority of these new permanent residents and is also the most populous province.
By October 2021, 52.4% or 5, 990 immigrants who freshly received Canada PR Visa through the program chose Ontario for settling in Canada. The province of British Columbia also performed well through the program. It received 28.3% or 3,235 immigrants who freshly received Canada PR Visa through the program.
The Quebec Province which is a Francophone province with its separate immigration system did not participate in this program.
The rest of the immigrants who freshly received Canada PR Visa through the program settled in the following territories and provinces of Canada as follows:
Alberta - 770
Manitoba – 510
Nova Scotia – 395
New Brunswick 180
Newfoundland and Labrador - 35
Northwest Territories - 20
Prince Edward Island - 70
Saskatchewan - 200
Yukon - 20
Canada is buoyant on immigration and is highly ambitious to accept 1.2 million-plus new immigrants during 2021 and 2023:
2021: 401,000 new permanent residents
2022: 411,000 new permanent residents
2023: 421,000 new permanent residents
Temporary to Permanent Resident Program Highlights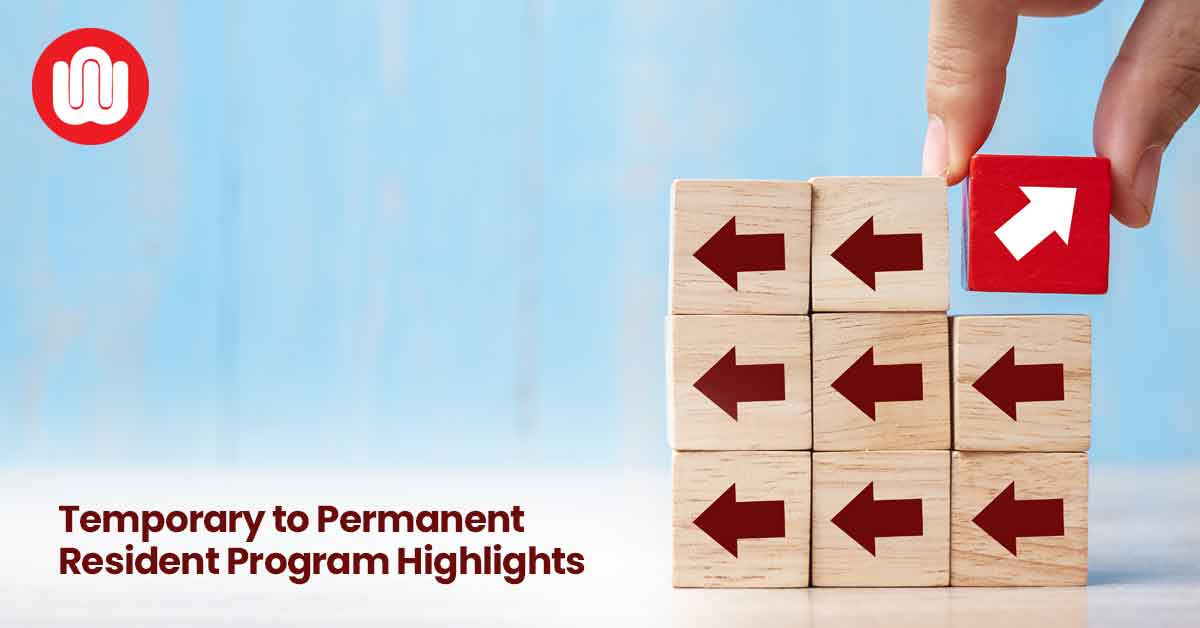 IRCC had launched 6 new streams for 90,000 plus essential immigrant workers already residing in Canada. These consisted essentially of those employed in long-term care homes, hospitals, other essential services, and overseas graduates.
The applications for Canada PR Visa were accepted from 6th May 2021 till 5th November or till the exhaustion of the allocated places. The allocation of places was as follows:
Temporary workers in healthcare - 20,000 applications
Temporary workers in other chosen essential occupations - 30,000 applications
Overseas students who graduated from an institution in Canada - 40,000 applications
Candidates applying through the provisional overseas workers' streams required a minimum of 1 year of work experience in Canada in the Healthcare industry or other authorized essential occupation.
The graduates required completion of their studies in a University or College in Canada in the past 4 years.
Qualified members of the family could be included in PR applications through all 6 streams.
The 6 streams were:
Overseas Graduate Stream
Overseas Graduate Stream - French Speakers
Provisional Worker Stream A - Health-Related Occupations
Provisional Worker Stream B - Other Essential Occupations
Provisional Worker Stream a - French Speakers: Health-Related Occupations
Provisional Worker Stream B - French-speakers: Other Essential Occupations
Canada achieves the goal of 401,000 New Permanent Residents in 2021
Sean Fraser the Immigration Minister of Canada has announced that the nation has achieved its goal of 401,000 New Permanent Residents in 2021. This also breaks the immigration record that was set in 1913, 108 years before!
Fraser said that we had set an ambitious target for 2021 and we are proud to have achieved it. As we welcomed the highest number of new immigrants in a single year in our history, it is a historic moment for Canada, added the Minister.
In the year 2022, Canada has fixed even a higher aim of welcoming 411,000 fresh Permanent Residents to the nation.
Justin Trudeau outlines immigration priorities for Canada
The Prime Minister of Canada Justin Trudeau has outlined the immigration priorities for the nation in a mandate letter to the Minister of immigration Sean Fraser. The letter highlights action on economic class immigration, provisional workers, family reunification, processing times, citizenship, refugees, and francophone immigration.
On broader lines, the letter calls upon Fraser to offer priority to continuing efforts for boosting the immigration and refugee system of Canada. It is inclusive of welcoming more new immigrants all across Canada for supporting the economic revival of the nation from the pandemic.
The Letter urges action on assisting human rights defenders and Afghans. It also requests the Minister to continue strengthening the family reunification and decreasing processing times for applications, particularly for the pandemic impacted.
The highlights of the mandate letter are as follows:
Economic Immigration:
Get new immigrants as outlined in the Immigration Levels Plan for 2022-2024
Expand Canada PR Visa pathways for overseas students and provisional overseas workers via Express Entry
Increase migration to smaller communities through the expansion of Rural and Northern Immigration Pilot, improvement of the Municipal Nominee Program, and making permanent the Atlantic Immigration Pilot Program
Temporary workers:
Help in establishing a reliable system of employers for firms in Canada recruiting provisional overseas workers
Improvement of the Global Talent Stream through simplification of renewals of Work Permit, maintaining 14 days processing and establishing a hotline for employers
Improving recognition of overseas credentials
Finding extra ways for regularizing the status of undocumented workers who contribute to the communities in Canada
Processing times:
Decrease processing times for applications inclusive of pandemic delays
Family reunification:
Launch digital applications
Offer Provisional Resident status to spouses and kids overseas during the processing of immigration applications
Citizenship:
Render the process of Citizenship application cost-free
Francophone immigration:
Collaborate with Quebec for supporting immigrants' knowledge of the French language
Maintain support to Francophone migration across Canada
Refugees:
Enlarge the new migration category for defenders of human rights
Carry on bringing more vulnerable nationals of Afghanistan
Enhance the number of eligible refugees to a minimum of 40,000 from 20,000
Collaborate with the US for modernizing the Safe Third Nation Pact
Develop the Economic Mobility Pathways Pilot for welcoming 2,000 skilled refugees
Fraser will mostly table his first Immigration Levels Plan in Parliament of Canada in February 2022. He has stated already that he has no issues with further increasing immigration if businesses and Canadians support it.
Canada vows $85M for dealing with Immigration Backlogs in Fall Economic Statement
Canada has vowed funds of $85 million for dealing with the issue of backlogs of immigration applications. It has been acknowledged that new immigrants are vital for economic growth, especially in post-pandemic times.
Chrystia Freeland the Finance Minister in her economic statement for fall portrayed a positive image of the emergence of the nation from the recession resulting from the pandemic. Her statement also highlighted the significance of immigration for attracting top-notch global talents, catering to employers' needs and labor market demands.
The statement adds that immigrants and overseas workers assist Canada in fulfilling the short-term and long-term needs of the labor market respectively. Overseas students and visitors are crucial for the businesses and institutions supported by them, it adds. They are not important only for the economy of Canada but also for bringing fresh perspectives and connecting Canada globally, reads the statement.
The $85 million will be used from 2022 to 2023 for both processing more applications and reducing processing times in major locations impacted by the pandemic. It will assist in ensuring that the immigration system of Canada is placed well for assisting in catering to the labor force and economic goals of the nation, explains the statement.
Nationwide Visas can assist you in filing a flawless and 100% compliant Canada PR Visa, Canada Visitor Visa, and application through its ICCRC accredited Immigration Consultants. Book your appointment with our experts today!
Tags: TR to PR Program, TR to PR Pathway, Temporary Resident to Permanent Resident, TR to PR