Canada immigration for your grandparents and parents through Super Visa Program
The Super Visa Program is a Canada immigration pathway for grandparents and parents. They are initially permitted to stay in Canada for 2 years without renewing their status. Multiple entries are also permitted for 10 years. 

The Super Visa application can be submitted at any time of the year. It is a substitute over the PGP - Parents and Grandparents Program for those seeking to temporarily reunite with their grandparents and parents. The PGP has a limited intake and high demand. Thus, the Super Visa Program offers greater assurance of family reunification. It is specifically valuable for citizens of nations requiring a TRV - Temporary Resident Visa for arriving in Canada. Super Visa removes the need for frequently reapplying for the TRV.
Eligibility for the Super Visa
Grandparents and parents of Permanent Residents or Citizens of Canada can qualify for the Super Visa Program. They must not be inadmissible to Canada on grounds of criminality or health. The Visa Office can also specify them to fulfill other criteria. 
Only grandparents and parents can be the primary applicants for the Super Visa. Common-law partners or spouses can be included in the application. However, dependents cannot be included. 
The Super Visa Application Process 
You have to submit Super Visa Application from outside Canada. The process for Super Visa Program is identical to the usual TRV application process. Nevertheless, Immigration, Refugees, and Citizenship Canada have to make sure that the grandparents and parents will be adequately supported while staying in Canada. 
The extra documents include a letter with the signature of their child or grandchild in Canada and medical insurance of a minimum of $ 100,000 from an insurance firm in Canada. The letter must declare assurance of monetary support for the entire period of their stay. The sponsor has to demonstrate the Permanent Resident or Citizen status in Canada with documents and provide a list of the individuals in the home. 
The medical insurance needs to have a validity of a minimum of 1 year from the date of arrival to Canada. The applicant has to demonstrate the payment of insurance as IRCC does not acknowledge quotes. 
IRCC Officers will also assess if or not the applicant will actually exit Canada upon completion of the authorized stay period. They will review the ties of the applicant with their home nation and the objective of their visit. The finances, family, and overall political firmness of their home nation will also be examined. 
Super Visa Requirements in Canada
Grandparents and Parents can stay for 2 years in Canada with no requirement for renewal of their status. They must fill and file the IMM5257 Form from overseas. Their and their sponsor's financial condition will be assessed for the application processing. The Letter of Invitation from the host has to be provided. 
Grandparents and Parents have to offer proof of monetary support from their host/sponsor and fulfill the requirement for minimum household income (roughly $17,000). They must also demonstrate medical insurance coverage in Canada for a minimum of 1 year. 
The Invitation Letter from the sponsor must include:
Full name and middle name of the Parents Nation of birth/ date of birth.
Phone number and address of the grandparent/parent. 
Relationship to the host (Permanent Resident or Citizen of Canada). 
The objective of the visit.
The duration for which the grandparent/parent intends to remain in Canada. 
Accommodation details. 
The date on which the grandparent/parent intends to exit Canada. 
Can you file a Super Visa application for your parents from Canada? 
Only the grandparent/s or parent/s intending to arrive in Canada can submit an application for the Super Visa. But some details about the sponsor in Canada must be provided in the application: 
Complete name
Date of birth
Residential address and phone number 
Title of Job
Information regarding status in Canada – Permanent Resident or Citizen along with evidence for status 
Details of family members inclusive of date of birth and names 
Total number of individuals residing in the home
Evidence for minimum income 
How to submit an application for a Super Visa?
1. Arrange all the required documents 
You have to collate the following documents prior to applying for the Super Visa: 
Invitation letter from your grandchild or child who is a Permanent Resident or Citizen of Canada that is inclusive of: 
Evidence that a grandchild or child's household fulfills the necessary minimum income. 
Evidence of payment for medical insurance from an insurance company in Canada. 
A document that confirms that underwent a medical exam for immigration.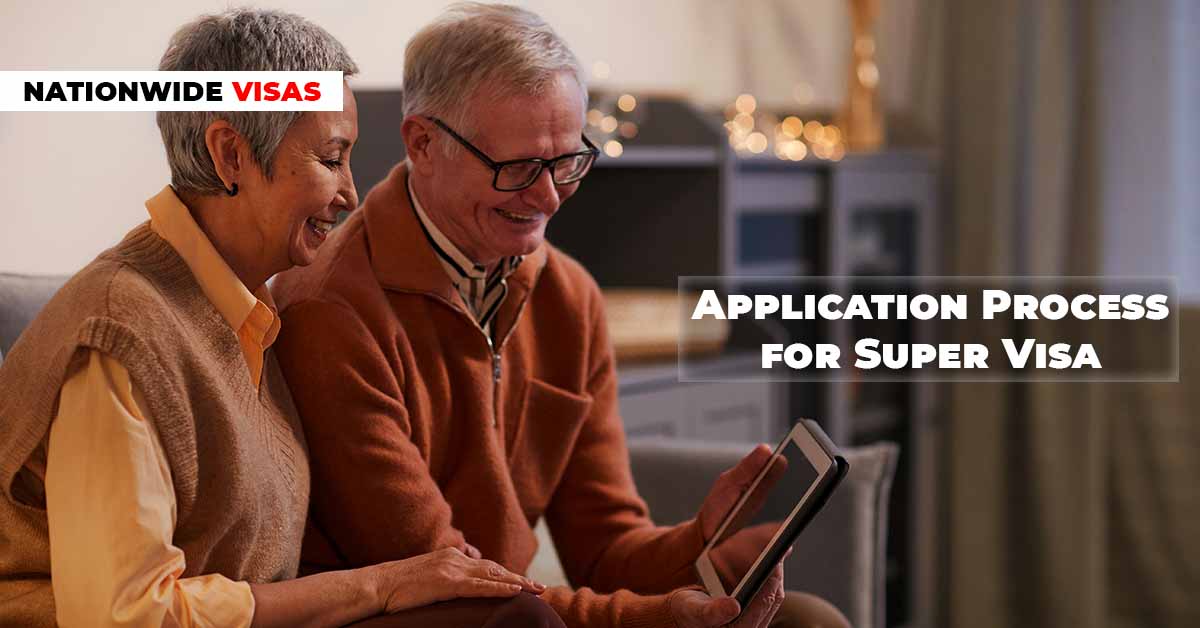 Requirements for Minimum Income
The grandchild or child of the applicant needs to fulfill the least income specified for the Super Visa eligibility criterion also referred to as LICO - low-income cut-off. 
Size of Family and Required Minimum Income (CAD)
1 person (the sponsor) - $24,949
2 people -$31,061
3 people - $38,185
4 people - $46,362
5 people- $52,583
6 people - $59,304
7 people - $66,027
7 or more people - for each extra individual add $6,723
How can you show proof of income?
You can prove your income by means of any of the following: 
Share the latest hard copy of the Notice of Assessment. 
Obtain your tax details straight from CRA. 
The latest copy of T1 or T4 from your employer. You can obtain a letter from an accountant that confirms your annual income if you are self-employed. 
Original offer letter offered by your employer that states your job description, title, and salary. 
Employment cover pay stubs.
Evidence of other income sources like investments, pension statements, etc. 
What is the rate of approval for the Super Visa Program?
The rate of approval for Canada's Super Visa is roughly 83%. The processing time for a Super Visa application is around 8 weeks after you file the application with all the documents. You must also bear in mind that the processing times for Super Visa will finally also rely on your nation from where you file the application. 
How to help your grandparents or parents to obtain the Super Visa?
The Super Visa is for grandparents and parents of Permanent Residents and Citizens of Canada. To help them in obtaining this Visa, you must write an Invitation Letter and include your citizenship or permanent residency document. 
You have to assure your monetary support for your grandparents/parents in the letter throughout their stay in Canada. Evidence that your income exceeds or fulfills the LICO will also be needed. You will require a list of all the individuals in your household as the LICO is to an extent determined by the size of your family. 
A few of the documents that can be used for evidence of funds include your T1 or T4 for the latest tax year, Notice of Assessment, offer letter offered by your employer that states your job description, title, and salary; Employment Insurance stubs, and bank account statements.
Your grandparents or parents will also need medical insurance from an insurance company in Canada that has coverage of a minimum of $100,000. The validity of the insurance must be for at least 1 year from the date of their arrival in Canada. Proof of payment of the insurance will be required as Canada does not accept quotes. 
Your grandparents or parents will need to file a Super Visa application from outside Canada. They must be allowed into Canada and appear for a medical exam for immigration. 
While deciding the Super Visa application, the IRCC Officer has to determine if or if not the nature of stay of the applicant is temporary actually. As per the Government of Canada, this means that you must be a genuine visitor to Canada who will exit at the end of the Visa. The officer will assess your ties to your home nation, the objective of the visit, the financial stability of the family, and the overall political and economic stability of your home nation.
Why you must seek professional immigration assistance for Super Visa?
The application process for Super Visa can be tough, time-consuming, and intricate. It is thus important that you seek help from professional immigration experts. After waiting for months the last thing that you would look forward to is refusal for your Visa application. 
Nationwide Visas has rich experience of 15 years in the immigration industry. We have assisted several thousands of aspiring candidates in fulfilling their Canadian Immigration dreams. Our ICCRC accredited Immigration Advisors can offer you valuable assistance and guidance in a successful Canada PR Visa application.