Nova Scotia Achieves 1 Million Population Target Backed by Immigration
The maritime province in Canada Nova Scotia has achieved a major population milestone and surpassed 1 million people, thanks to immigration. IRCC - Immigration, Refugees and Citizenship Canada's statistics reveal that 35% plus of this growth was due to 995 fresh Canada PR Visa holders who moved to Nova Scotia in Q1-2021.
In Q1-2021, 5696 individuals immigrated to Nova Scotia from overseas and other locations in Canada. This increased the population of the province by 2, 877.
Immigration increases the population of Nova Scotia by 6, 170 in ten months
The population of Nova Scotia increased by 6, 170 fresh Canada PR Visa holders by the beginning of Q4-2021. The majority of these newly arrived immigrants were arrivals from India, the Philippines, China, the UK, and South Korea.
Sasha Raz a resident of Bridgewater is amongst the thousands of immigrants who immigrated to Nova Scotia. Raz informs that he moved here from Israel in 2020. It is delightful to relish the amazing natural serenity that is filled in every corner of this province. Above all, the people of Nova Scotia are lovable, explains the immigrant.
Nova Scotians are friendly, kind, and sincere, said Raz. They are much more sensitive towards the emotions of others and are genuinely ready to help anybody. This is the true wealth of our province, elaborated the resident of Nova Scotia.
Nova Scotia already has a retention rate of 71% of the migrants that settle in the province. It is the highest rate of retention amongst the four provinces in Atlantic Canada.
Nevertheless, Nova Scotia is set to commence a marketing initiative worth $ 2.5 million. The aim is to support immigration to the province, achieving immigration goals and allure fresh immigrants from across Canada.
Jill Balser the Immigration Minister of Nova Scotia said that the province is witnessing steady growth. We endeavor to persuade those residing in Canada and overseas to start and develop a new life in our serene province, she added.
Population growth implies expansion of opportunities too, said Balser. New immigrants boost the economy, address gaps in the labor market and enrich the communities. We heartily wish to welcome new immigrants to Nova Scotia and aim to disburse the advantages of these immigrants to all the regions in the province, explained the Minister.
Nova Scotia wishes to increase its population twice by 2060
The province of Nova Scotia is aiming to increase its population by twice in the upcoming 38 years. This is by alluring 25,000 new immigrants annually through Nova Scotia immigration as well as new immigrants from other locations in Canada.
The Department of Immigration, Skills, and Labor of the Province is working with various employers in Nova Scotia. The aim is to identify unique ways for resolving shortages of labor and streamlining the process of immigration to the province.
Tim Houston , the Premier of Nova Scotia said that achieving the milestone of 1 million is a landmark in the history of the province. Following years of decline in population, the world has today realized the uniqueness of Nova Scotia. We are growing and have momentum, said the Premier. He considers that the growth of population is the major factor for the expansion of the economy of the province.
Houston said that the growth due to immigration benefits everyone in the form of an increased tax base, fresh jobs and businesses, enhanced infrastructure, and richer diversity and culture. He appealed to the workplaces, schools, communities, employers, and residents in Nova Scotia to be forthcoming towards fresh immigrants. All who select the wonderful province as their home must be welcomed, he added.
Nova Scotia Immigration has been on the rise steadily and reached 5, 965 fresh Canada PR Visa holders who settled in the province in 2018. In 2019, the rate of immigration increased by nearly 27.1% to reach 7, 580 fresh Canada PR Visa holders.
Fresh Pathways for Canada Permanent Residence
Nova Scotia is making all-around efforts for attracting more immigrants to the province than only marketing campaigns. It has also launched fresh pathways for Canada PR Visa through its provincial nominee program.
In 2021, the province started a fresh Nova Scotia PNP category aimed at overseas graduates. It is the Overseas Graduates in-demand category under the NSNP - the Nova Scotia Nominee Program . This stream is for workers having permanent offers of jobs in any one of these 2 National Occupational Classifications - NOC Codes:
Patient Service Associates, Orderlies, and Nurse Aides - NOC 3413

Early Childhood Assistants and Educators - NOC 4214
Overseas Graduates are required to complete a minimum of 50% of their program of study in Nova Scotia. This is apart from having an offer of a job from an employer in the province corresponding o their area of study.
Nova Scotia PNP has overall 9 diverse streams having a targeted applications' processing time of 90 days. These 9 streams are:
EE - Nova Scotia Experience

Nova Scotia EE - Labor Market Priorities

Nova Scotia EE- Physicians' Labor Market Priorities

Skilled Worker

Physicians

Occupations in Demand

Overseas Graduates in Demand

Entrepreneur

Overseas Graduate Entrepreneur
The province also manages the program Study and Stay. It aims to assist overseas students from India, China, and the Philippines in remaining and developing careers in Nova Scotia after graduation.
Apart from these, there also exists the group of 3 programs that are employer-driven under the Atlantic Immigration Pilot that has been made permanent WEF 1.1.2022:
The Atlantic Intermediate-Skilled Program

The Atlantic High-Skilled Program

The Atlantic Overseas Graduate Program
Every offer of a job offered through AIP needs an endorsement from a province. The employer takes care of the endorsement application after the Settlement Plan is provided by the candidate. IRCC has announced that the details of the new AIP will be declared soon in 2022. Applications under the new AIP will be accepted from 6th March 2022 onwards.
Candidates who already possess a valid letter of endorsement under AIPP will have to wait till this date to file applications through the new program. AIPP assisted in the arrival of 10,000 plus fresh Canada PR Visa holders to the Atlantic provinces since its inaugural. Major sectors that offered jobs under AIPP include Manufacturing, Food Services, Accommodations, and Healthcare.
Nova Scotia Job Market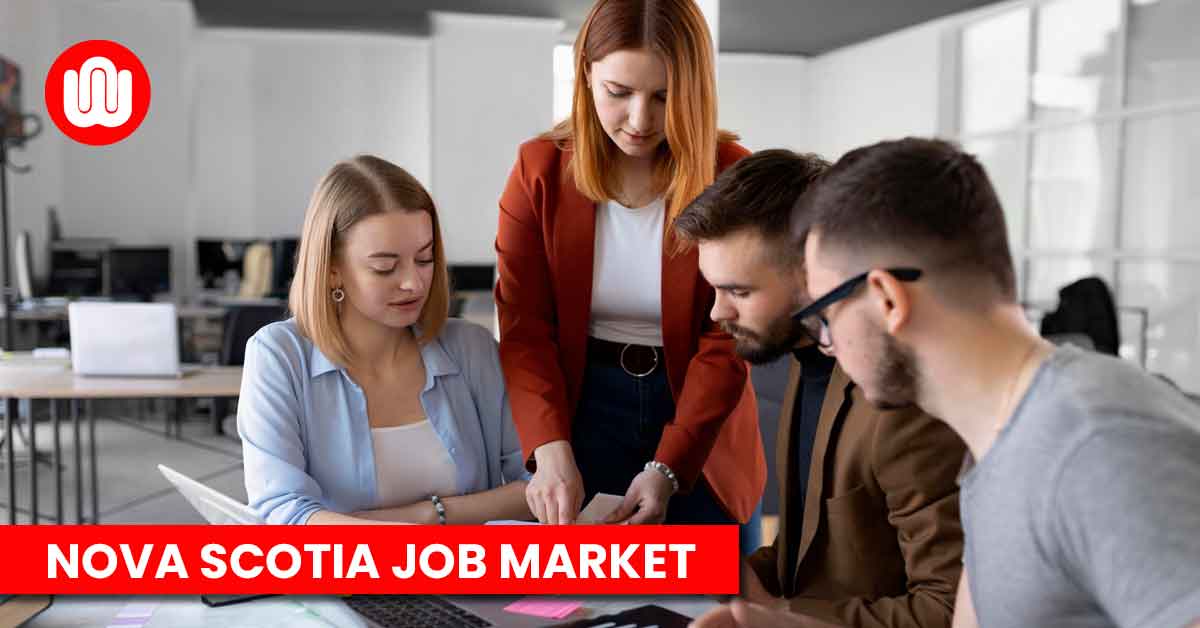 Nova Scotia has diverse businesses and industries to choose from and boasts of 5major regions inclusive of growing cities to small towns. The province also has one of the fastest expanding Information and Communications Technology - ICT sectors in Canada.
Halifax
The capital city of Nova Scotia, Halifax is also the largest urban metropolis. The service sector dominates the employment market here. Its share in the job market is 85% plus, considerably higher than the remaining areas of the province. Strong growth is also being recorded by other sectors like Healthcare.
Annapolis Valley
An increase in full-time job openings is being witnessed by the Annapolis Valley, which implies a positive growth of the area. Construction and agriculture-driven sectors dominate this region.
Northern Nova Scotia
Another region in Nova Scotia that is dominated by the jobs in the service sector is Northern Nova Scotia. 1/4th of the employment in the region is also accounted for by the goods sector.
Southern Nova Scotia
An increase in employment is being witnessed by the strong industries in Southern Nova Scotia such as the goods industry. Job opportunities are also offered by other sectors in this region including Oil & Gas, Mining, Fishing, Forestry, and Construction.
Cape Breton
Both part-time and full-time jobs expansion is being witnessed by the island of Cape Breton. Employment opportunities are also increasing in sectors like Public Administration, Social Service, and Healthcare sectors.
Finding a Job in Nova Scotia
Skilled immigrants can now access fresh opportunities even as the economy of Nova Scotia continues to expand. Nevertheless, it is in your best interest to plan your job hunt as the job market remains as competitive as ever.
Cover Letter & Resume
Your resume informs the employers in Canada regarding your qualifications, experience, objectives, and skills. It is a vital factor that determines whether you will be considered for the job or not. A Resume is usually accompanied by a Cover Letter. This introduces your abilities, qualifications, and yourself to the prospective employer.
The main aspect of your job search is to ensure that your resume reaches the right people. This can be achieved through the usage of networking and contacts or circulation of your Resume via direct submissions. Responding to online listings or job postings is the most usual way to search for jobs in Canada .
Nationwide Visas offers a range of Immigration and Visa services to aspiring immigrants to Canada including Profile evaluation, PR Visa application services, Resume Writing Services, and Job Search Assistance. Our Immigration Consultants are accredited with ICCRC and offer you seamless and 1005 compliant immigration services and advice.