How to get a job in Canada from India in 3 easy steps?
Millions of individuals migrate to Canada every year due to attractive job and career opportunities. For Indians specifically, for more than a few decades Canada remains a hub of job opportunities. Several thousands of Indians apply for Canada PR Visa every year and migrate to Canada chiefly because the nation offers the best paying jobs globally.
For your Canada immigration from India for the purpose of a job, you will require:
Professional CV
Cover Letter that supports your job application
Documents for past employment
Payslips for proof of salary
Proof of Identity
Passport
Canada Work Permit/Visa
Obtaining a job in Canada in 3 simple steps
Craft a CV that bypasses filters
Many of us presume that writing a resume is a simple task. However, creating a professional CV requires much experience as well as expertise.
Companies in Canada receive several thousands of applications for jobs every month. Filtering all these applications is quite a tough task humanly. Thus, most companies use a tool known as 'Application Tracking System' for filtering these CVs. The system scans all the CVs that have been submitted and filters applications depending on keywords, resume alignment, formats, presence of photos, etc.
If you wish to migrate to Canada and achieve success when you apply for a Canada PR Visa, the first step is reaching the HR desk. You can also opt for professional Resume Writing Services for creating your CV with help from experts.
Select the accurate sources to apply for jobs
The way to apply for jobs has entirely changed in 2022. You must opt for a multi-channel strategy for getting the attention of the employers. Connecting with the correct employer is now easier than previously due to the emergence of LinkedIn and similar portals.
You will be able to generate instant responses by following the right approach. This includes posting for jobs on several job portals in Canada, usage of social media, and connecting with HR Consultants in Canada. You must also apply for the latest jobs directly on the website of the company.
Apply for Canada PR Visa
If you obtain a Canada PR Visa, your chances of obtaining a job in Canada increase manifold. Employers prefer candidates who have the right for working in Canada without the requirement for sponsoring them.
It is wise to apply for Canada PR Visa if you possess good work experience and education. It will be a great option to migrate to Canada. You can avail of guidance and support from a reputed Immigration Consultant to help you with the application.
The timeline for obtaining a job in Canada
A survey was conducted by Workpolis for understanding the time taken by skilled overseas workers to obtain a job in Canada. It was revealed that more than 50% of the job applicants seeking to migrate to Canada could get a job within 4 months of their application.
It was revealed by a large number of applicants that they had submitted an application for 10 job postings only before receiving the offer.
Finding a job in Canada as early as possible
It can be a daunting task to find a job in Canada in absence of an appropriate understanding of the job market in Canada and planning. You must adopt the following strategies for quickly finding a job in Canada:
Prepare a dynamic job strategy
By merely posting your profile on job portals in Canada and waiting for results, you cannot obtain a job in Canada. You have to research actively for jobs that are available and apply to them. However, this can be a challenging task given your tough life and work schedule. Thus, you must hire experts for doing the job search on your behalf.
Job Search Experts are familiar with the job market in Canada and all aspects of jobs in Canada. Your job search will be greatly assisted through their expertise.
Apply for Canada PR Visa
If you consider that it is a good idea to apply for a Work Permit for the purpose of a job in Canada, then think twice. Employers in Canada are according great preference to applicants with Canada PR Visa over those with Work Permit. This is chiefly because:
Candidates with PR Visa bring in the assurance of living in the nation for a long-term
It makes the employers confident that the skills and talents of the chosen candidates will be of an advantage for a long period
Employers are also attracted to PR Visa holders due to the fact that they do not have to bear expenses for an LMIA
The candidate will also be an asset to the economy of Canada overall after obtaining citizenship upon 3 years
The preference for Indians
Most of the Indian candidates who seek to migrate to Canada possess the talents and skills that Canada requires for the development of its economy. Large numbers of candidates are also competent to easily fulfill the criteria for Canada immigration than citizens of other nations.
Certification can be required for specific occupations or skilled trades. Likewise, you may have to offer results for practical skill tests for specific roles.
Canada PR Visa: A great option in 2022 to obtain a job in Canada
You must apply for Canada PR Visa to migrate to Canada as it is a great option than Canada Work Permit. This is because it gives you the Permanent Resident Card like the Green Card in the US. Moreover, you do not require a job offer to apply for the PR Visa. Both the Visa process and job search can progress together.
You must secure 67 points in the Express Entry system of Canada and submit your Visa application online. The occupation that you represent has to be present in the National Occupational Classification List of Canada.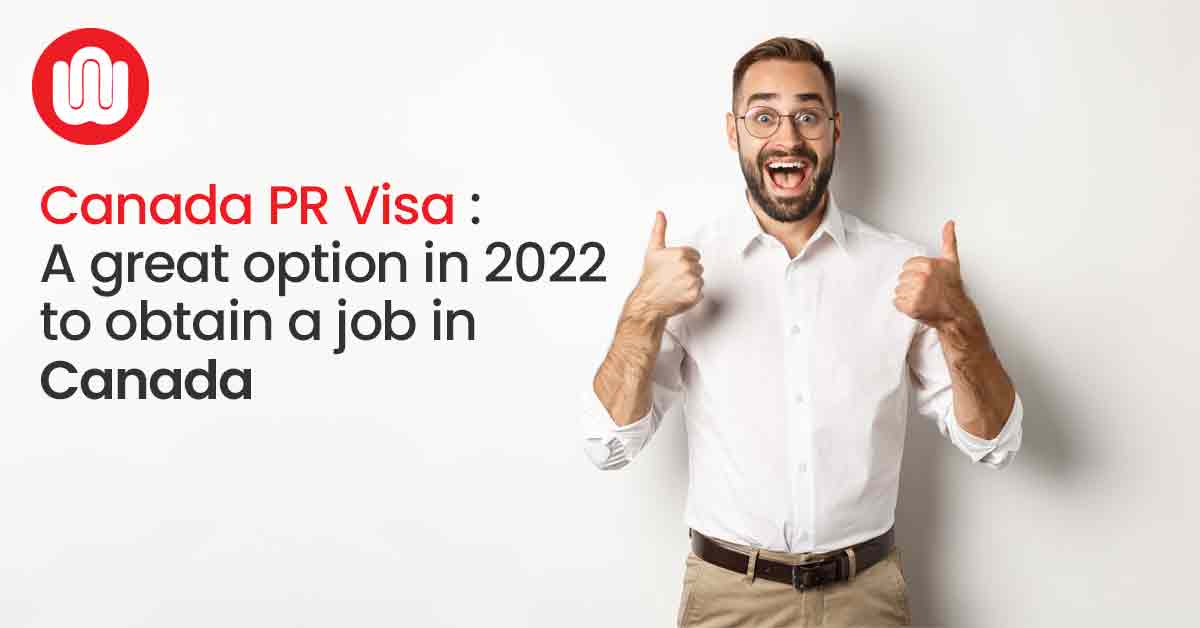 Once you obtain the Canada PR Visa, you can:
Work for any company in Canada anywhere
If required change jobs or companies
Allow your spouse to work with no extra Permit
Claim benefits for unemployment through many schemes
Access free healthcare and education
How Nationwide Visas can help you obtain a job in Canada?
We offer the following services and solutions for helping you in getting a job in Canada:
Click-Bait Resume
Every nation adheres to a specific and systematic format of resumes. We ensure that your resume fulfills the standards in Canada and is click-bait.
Smart Tracking
The majority of the resume is barred by employers and fails to reach their inboxes. We utilize the advanced system for ensuring that your resume reaches the inbox of the recruiter and gets noticed.
Continuous Efforts
We work continuously for 2 months on your profile. All possible options are filtered and applied in this period of time.
Interview Preparation
Obtaining a go-ahead from a recruiter in Canada is not an easy task. We will offer you training through our experts to equip you with the skills for succeeding in a job interview through assistance for interview preparation.
Get a Free Express Entry Assessment
Tags: Jobs in Canada, Canada immigration, Canada PR Visa, Job Offer in Canada