Top Resume Writing Tips to increase your chances for jobs in Canada
The resume writing format for jobs in Canada is quite different from usual resumes for other nations. It is important that your functional resume is aligned with the Canadian style of resume writing.

A resume is also referred to as the CV - Curriculum Vitae. This is a document that has details about your employment history, achievements, and education.
Formatting a Resume
When it comes to formatting the resume, there are no stringent rules particularly. However, your resume will have a professional appearance by adhering to precise guidelines. You must ensure that your resume is legible and easily understood.
Heading
Every new section must have a heading above it.
Length
You must limit the length of the resume to 1 or 2 pages. Lengthy resumes are often ignored while those shorter than 1 page indicate the absence of experience.
Font
There must be consistency in the font size and style in the resume. You can select 2 font styles – one for content and the other for headings. A professional font must be chosen and its size must be adequately large for printing and reading.
Style is a matter of choice when it comes to resume writing. Essential words or details can be highlighted in italics or bold. Being eye-catching these must be used sparingly. It is essential to highlight content but it must not be distracting.
Resume Tips for applying to jobs in Canada
A resume is a means for obtaining an interview. It is not intended to be a document for exhaustive work history. Your focus must be to present highlights and not every minute detail. You can offer additional details during your interview for jobs in Canada. Usually, Hiring Managers allocate just 10 to 30 seconds to browse your resume. You must thus ensure keeping it exciting and use the resume format for Canada for marketing your profile. It must be concise and highlight your achievements.
You must avoid small fonts and lengthy paragraphs. The size of the font must not be less than 10 to ensure easy reading. You must use only one font for the content in the entire resume. One more font can be used for headings but the style has to remain consistent.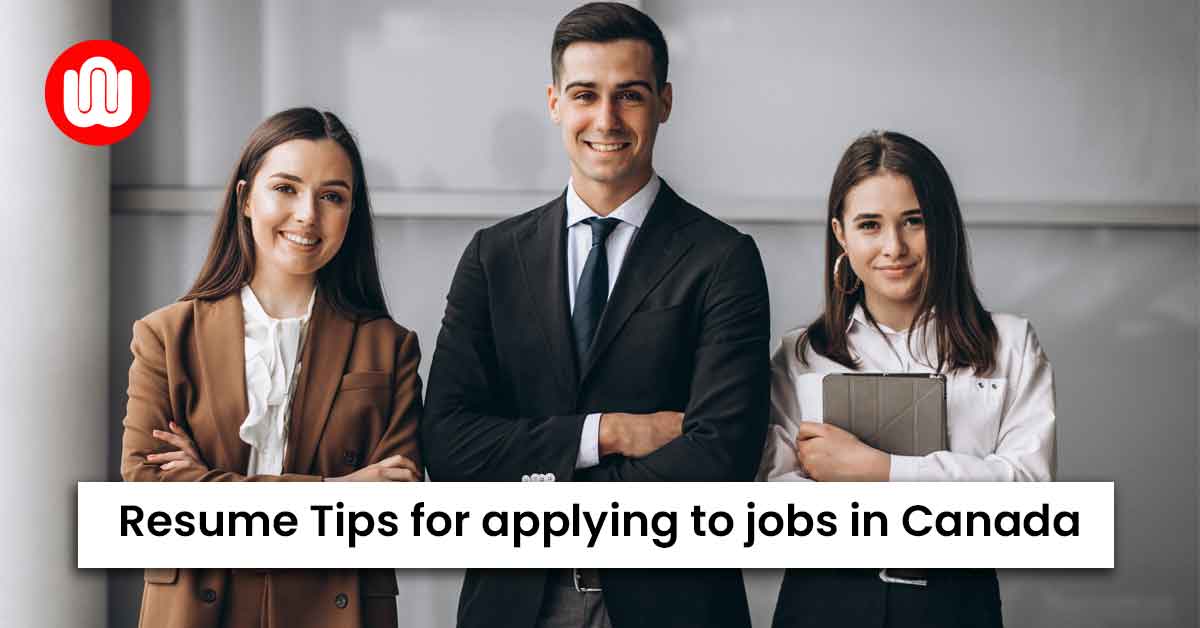 The resume format for Canada has to be generally 2 pages maximum if in case you have good years of experience. If not one page is adequate. 3 pages are acceptable only if you have more than 10 years of experience.
The first-person usage like 'I worked' or 'I am' must be avoided. Short sentences must be used to avoid wastage of precious space. Only the experiences that are applicable for the position that you intend to apply for must be mentioned.
Hobbies or Personal interests must be avoided unless involving accomplishments that enhance your profile. Your chances of getting selected for occupation in demand in Canada will not be increased by listing sports that you play.
Appropriate skills such as a spoken language apart from English or proficiency in computer applications will boost your prospects. But you must ensure that these complement the jobs in Canada that you apply to.
You must avoid a common resume format for sharing with multiple employers. You must be choosy and customize your resume for each company and job that you apply to. Generally, requirements differ from company to company and from one job to another job.
A professional resume template must be utilized or services from Resume Writing Experts must be sought. They are familiar with the intricacies as well as essential details to be highlighted.
Important details to be included in resume writing format for jobs in Canada
Name
The first and last names must be included in the correct sequence. You must omit the middle name. This is the most vital aspect of your resume. Thus, it must stand out and be legible. Ideally, large font size must be used for the name.
Contact Details
The contact details must be present beside or directly below the name. This must include your current address, mobile number, and email address. You must make sure to include all the contact details for enabling prospective employers to contact you.
Work Experience
Your professional experience must be described in this section. All your employment information must be listed chronologically.
Occupational Details
Position Held
Company/Institution name
Number of Years the Position was held
Roles and Responsibilities
If you have implemented any unique solutions or policies, they must be highlighted. You must also include diverse duties based on the job you have applied to. Be honest when it comes to experiences and do not fear to alter details as needed.
Usage of industry-specific language will assist in demonstrating your experience. The scope of the position that you held must be adequately showcased.
Education
You must begin with the latest educational credentials and progress reverse. If you possess multiple degrees, then you must sequence them according to their relevance for the position applied.
Educational Details
Institution's Name
Degree Type
Years Attended
You must ensure including only the latest or completed education.
If you have any volunteer experience or awards, these can also be included.
Volunteer Work
Though volunteer work is optional, employers in Canada highly encourage it. This can assist in distinguishing you from other candidates. But only selected volunteer work applicable for the applied industry must be included. It highlights a trait of your character while contributing to your existing qualifications.
Details of Volunteer Experience
Position Held
Organization's Name
Number Years Position was held
Responsibilities
Awards
You must showcase any official recognitions or awards that you have received. These must be applicable to the position applied to. Achievements must be limited to the top 3 major accomplishments. A short description must be included highlighting the importance of the achievements.
Things to avoid in the Canadian Resume
Any information of an excessively personal nature must not be included anywhere in the resume format for Canada. You must also avoid the following:
| | | | | | |
| --- | --- | --- | --- | --- | --- |
| Age | Sexual Orientation | Religion | Nationality | Weight | Disability |
| Gender | Marital Status | Citizenship | Family Status | Height | Blood Type |
You must also avoid details about your parents. An effective resume only includes information applicable for your job search and position applied to.

Use of personal photos or including annexes must be avoided. The length of your functional resume must be a maximum of 2 pages.
Including any design elements must be avoided. A resume must be simple and easily readable if you opt for the usage of color. References must be used only when needed or if asked by the prospective employer.
The best sample resume format for the job market in Canada
The most preferred format of resume for applying to jobs in Canada is a Chronological resume consisting of an objective or/and statement of career summary. The listing is in order of latest to previous employers along with relevant achievements.
Nationwide Visas is the premier Immigration Consultancy for immigration to Canada. We offer professional resume writing services to maximize your chances of obtaining a job in Canada.