Why do people migrate to Canada from India?
Canada is without a doubt one of the most beautiful nations in the world, and it is responsible for a large number of people migrating from India to settle down in Canada. The nation of the maple leaf is known for its magnificent landscapes, a rock-solid healthcare system, and an education system so strong that the global population review rates Canada third in the world for its powerful education system.

I mean, there are so many reasons to adore Canada that I could go on and on. In this piece, I will discuss some of the most compelling reasons why individuals choose to immigrate to Canada.
Canada values multiculturalism and immigrants
The fact that Canada embraces multiculturalism can be seen in the fact that in the 1970s, under Prime Minister Pierre Trudeau's direction, Canada officially adopted a policy to promote multiculturalism, and it has been a key part of Canadian identity ever since, as well as because they recognize the social importance of immigration to Canada. Canada is widely known for its mosaic culture, in which many different civilizations cohabit.
Canada enjoys a high standard of living
In 2021, Canada was ranked first in the world for the highest quality of life. Moving forward to 2022, we are witnessing an increase in the number of persons intending to come to Canada as well as those who have already moved to Canada and Canada truly have that standard of living.
Who wouldn't want to live in a country where the cost of living is really lower than in the United States?
You will spend less money on health, insurance, education, rent, and so on.
What factors contribute to Canada's 'High' quality of life?
Let's see, for starters, schooling in Canada is fairly inexpensive, and they rank first in terms of educational quality.
You may go on a relaxing trip to Banff, Niagara Falls, and Jasper National Park.
There are exotic vacation destinations where you may stare at mountains, go hiking, and make unforgettable experiences; education is inexpensive, and yet Canada ranks first in education.
Not only that, but the Canadian economy is growing like never before, bringing riches into people's lives.
Canada is one of the world's safest countries
In addition to being top in terms of quality of life, Canada is consistently ranked first in terms of safety. In fact, according to CIC Times, a reliable source, Canada is the world's second safest country. When it comes to crime rates, Canada has the lowest, which adds to the country's good quality of life. Immigration policy in Canada has always been embraced by both the government and Canadians, preventing problems such as racism.
Canada's economy is flourishing
The Canadian economy has always been strong; according to the World Population Review's 2021 study, Canada's unemployment rate is just 6.5 percent, which is lower than the global average jobless rate of 10.31 percent.
The fact that Canada ranks 9th in GDP rankings, trailing larger nations such as Russia, Korea, Australia, Brazil, and many more, demonstrates what makes the Canadian economy thrive.
The Canadian economy grows as a result of three major sorts of industry and these are:
Service sector industries
Service sectors employ the majority of people, with positions in transportation, education, health care, construction, banking, communications, retail services, tourism, and the government is the most common.
Production-based industries
Paper, high-tech equipment, aerospace technology, vehicles, machinery, food, clothes, and a variety of other things are examples of manufactured goods. These commodities are produced in Canada by industries that employ people.
Natural resource-based industries
Natural resource sectors in Canada include forestry, fisheries, agriculture, mining, and energy. Canada is rich in these natural resources and helps to strengthen the economy by supplying them to nations in need. Manulife, Magna International, A&W, and many more well-known Canadian corporations may be familiar to you.
Canada is one of the top countries in the world for education
One of the most compelling reasons to move to Canada is for education. In a number of polls, Canada is rated as the top country in the world for education. The high level of education available in Canada as comparable to that available in the United States, the United Kingdom, and Australia. Every year, international students flock to Canada because of the high level of education it offers.
In comparison to the United States, the United Kingdom, and other nations, Canada has a lower cost of living. Canada is also at the top when it comes to conducting research; they instill current research in their curriculum, preparing students for the modern unwanted issues that they may encounter in the workplace.
The job market in Canada is increasing
The employment market benefits greatly from Canada's robust economy and a lot of significant enterprises; jobs continue to flow in, and this is one of the reasons why immigrants are fast shifting to Canada; the work market welcomes newcomers with open arms.
There are no laws in Canada that discriminate against Canadian immigrants, prohibiting them from gaining better opportunities. The rapid employment progression that you will experience in Canada will be remarkable. Immigrants have flourished in their careers in Canada by landing excellent jobs that fit their knowledge and skill set.
Canada offers several amazing vacation locations
One of the benefits of relocating to Canada is the incredible vacation locations such as La Mauricie National Park (Quebec), Fundy National Park (New Brunswick), Prince Edward Island, Cape Breton Highlands National Park (Nova Scotia), and so on. Here you may go to places that you've had as desktop backgrounds for as long as you can remember. It'd be like a fantasy come true.
Every year, a large number of tourists visit Canada in search of a calm holiday or relaxation. And if you plan to immigrate to Canada, this is absolutely a bonus. You no longer have to search for adventure in another nation, which would be prohibitively expensive.
The spectacular nature that you will encounter here is simply breathtaking; only one long trip to one of these destinations and you will return with a lifetime of eternal memories.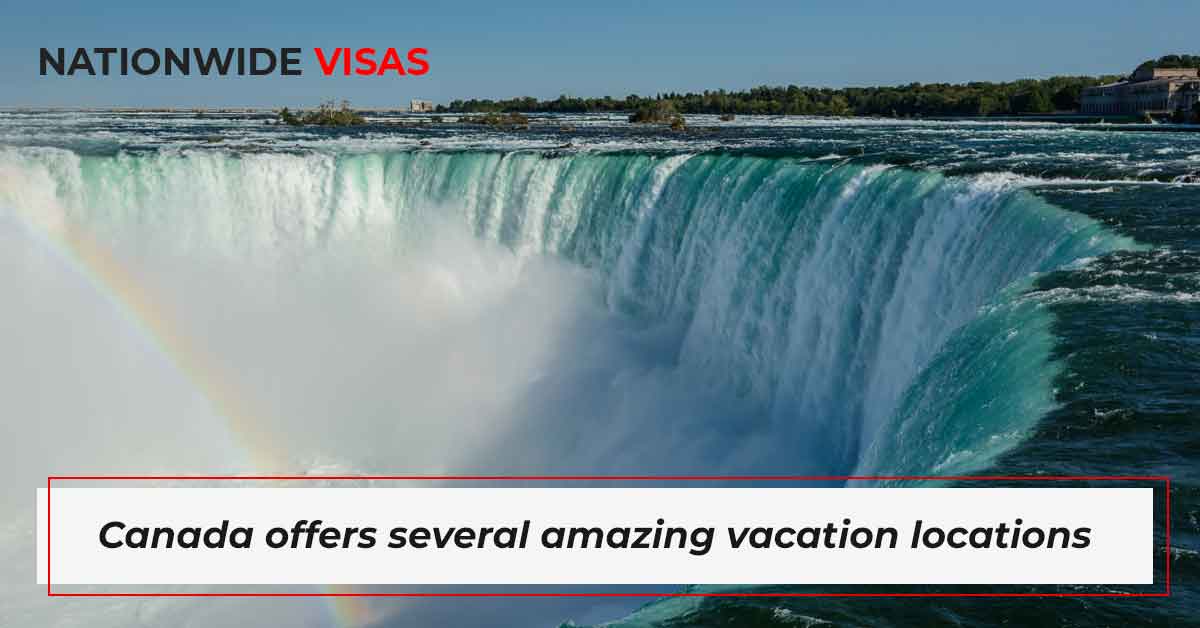 Canadians have access to universal healthcare
The universal healthcare system in Canada is supported by the taxes you pay. To get healthcare benefits, you must essentially display your healthcare card at the hospital and clinic.
This is a critical issue to make before immigrating to another nation, especially with a worldwide pandemic still raging over our heads and leaving many families destitute after paying exorbitant medical expenditures. Canada is well-known for being one of the friendliest countries in the world for newcomers. Immigrants built the country, and Canadians are proud of it.
Here, talking about the Express Entry, it is the system used by Immigration, Refugees, and Citizenship Canada (IRCC) to manage permanent residence applications for three economic immigration programs i.e., Federal Skilled Worker Program (FSWP), Federal Skilled Trades Program (FSTP) and Canadian Experience Class (CEC).
Candidates are then evaluated based on a variety of variables such as their age, job experience, education, and language skills in English or French. They are then graded using the Comprehensive Ranking System (CRS).
The top-ranked individuals in the Express Entry pool are invited to apply for permanent residence on a regular basis. Furthermore, several provinces use the Express Entry system to pick people who may be able to fill labor needs within the province.
Provinces can then use the Provincial Nominee Program to invite qualified people to file for a provincial nomination for permanent residency (PNP). Individuals who are nominated earn an extra 600 CRS points, thereby ensuring an invitation to apply for permanent residence in a later Express Entry draw.
The Road to Citizenship
You may be able to apply for Canadian citizenship after relocating to Canada and becoming a permanent resident.
Permanent residents must demonstrate that they have spent at least three years, or 1,095 days, in Canada in the previous five years. Approximately 85% of permanent residents become Canadian citizens.